Last Updated on September 15, 2022 by admin
Since the virtual world always looks for something new and exciting, it is becoming more and more important for a business to develop a dynamic website. Having a dynamic website helps the entrepreneur update the website content without any difficulties.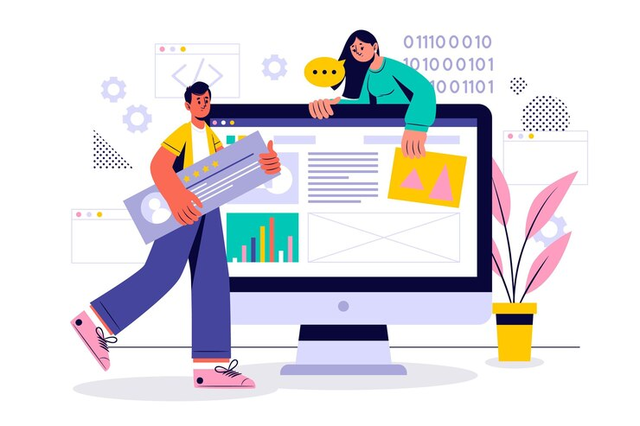 But is that all? Unfortunately no. Developing a dynamic website won't impress the audience unless it is user-friendly, engaging, and trendy at the same time. So, here we have enlisted the must-have features of a dynamic website to set you apart from others.
What precisely is a dynamic website?
Dynamic websites or web pages contain information that is updated regularly. The information on the web pages is adjusted based on the viewer, the time zone, the day of the week, and many other factors.
Scripting languages like ASP or PHP are used for creating dynamic web pages. A dynamic website can either use client-side scripting or server-side scripting or both to change its content. HTML programming is responsible for the primary structure of a dynamic website. This sort of website allows easy changes to the website content via HTML and JavaScript.
What are the essential features of a Dynamic Website?
A dynamic website has the potentiality to help business across all sectors expand exponentially . After all, website users like to browse sites that have appealing, innovative, and advanced features. Yes, it can have a good effect on the conversion rate. Take a look at the features that any leading dynamic website design services provider would recommend for a dynamic website.
The idea of incorporating video is great:
Written words or an image may occasionally fall short of creating magic. However, video content may perfectly convey your message. As a result, using video content in your dynamic website might enhance its appearance. Video content can showcase the features of your products or portray the benefit of your services better.
However, certain things must be considered while creating website videos. Because many website visitors use smartphones, you must make sure the video does not take up the entire screen. Make sure the video doesn't start playing on its own. If the video begins at a loud level, your clients may become annoyed. When you upload video content, your website's loading time may rise. Also, never upload anything that would slow down your website's performance. However, the video must be of excellent quality.
Your visitors would appreciate a large banner image:
Designing your website in a way that draws your audience's attention is essential. You can always think of using a hero image, but you have to make sure you choose a responsive hero image for your website. Generally, in the background of your website you can use the image with text. The text that you choose should lie on top of the image.
A dynamic website can tell brand story in a meaningful way with the right hero image. When selecting the image for the website, always pay attention to the color contrast. Because you'll be using text on the image, and the readability must not get hampered. So pick the colors wisely. Moreover, do not choose an unclear image.
How about a hamburger-style menu:
Have you noticed that different websites use three different horizontal styles to open the menu bar? It is called "The hamburger-style" menu.
A hamburger menu design is a great solution if you want to give your customers a better website navigation experience. Moreover, an experienced dynamic website design services provider would recommend a hamburger menu layout for responsive design. This way your website visitors will be able to navigate through the pages quickly.
Make your page load faster:
Visitors dislike a website that takes too long to load. So, keep in mind that your website must load faster. When a website visitor clicks on your dynamic website, they expect to browse the entire website seamlessly. So, don't let them down, and make sure your website loads at a steady speed.
Think about changing your website's language options:
It would be fantastic if your dynamic website could display content in several languages based on the visitors' location. Your dynamic website will enable you to connect with people from all around the world in this way. It's a fantastic opportunity for you to grow your consumer base.
Benefits of the features of a dynamic website
Let us now help you understand why having such features is important for your dynamic website.
Making updates is not difficult:
As a website owner, you are well aware of the importance of keeping your site up to date. It is in no way a hassle with a dynamic website. If you make a small modification in one of the template files, it will affect all of the others.
It's interactive:
Through your dynamic website, you can easily connect with your customers through easy interactions. Why? Your dynamic website allows your customers to share their personal experiences by submitting comments or messages. They can also continue to ask questions to learn more about a specific product or service. Therefore, it is beneficial.
Easy to handle:
It is not difficult to handle your dynamic website. Making changes does not need prior coding knowledge. Therefore, it is an advantage if you own a dynamic website.
A great tool to expand your business:
Your client will be more interested in a dynamic website with a professional appearance. As a result, if you're considering creating a website, go with a dynamic design. After all, it will undoubtedly be an excellent tool for business expansion.
Conclusion:
Planning is the first step before you develop anything. Thus, the development of your dynamic website must begin with proper planning. Get an idea of what features your website should have. Therefore, consider what we have suggested here to develop a unique website. Otherwise, you can always hire a SEO expert through a global employment agency and have all the work done.