Last Updated on December 24, 2022 by Hooria Batool
Walkout basements usually have an underground and an open end since one end of the property is underground. You can make an external wall more light-filled and provide access to a large area of the house by adding windows, multiple windows, or doors. Your walkout basement could be transformed into a whole additional floor, and your imagination and design are the only limits to how this great living space can be utilized.
Walkout basement
Walkout basements are an exciting idea but can be challenging to design. You may find that the information here will help you approach your basement to best suit your needs and provide inspiration for different designs. A walkout basement is essentially a basement that has access to the outdoors. If you have a walkout basement, you can access it by stairs without going through the house first.
A walkout basement can make an excellent rec room, game room, or even multipurpose space where you can do different activities depending on your mood. They are perfect for midwestern homes with basements because they consist of an outdoor porch that you can access through a staircase.
Some ideas for using your walkout basement include having an outdoor patio, putting in a pool, or even building a playhouse for the kids. The main benefit of having a walkout basement is using the space as both an indoor and outdoor area. As long as your house has a walkout basement, you can use all or a portion of the space to have an outdoor patio.
Here are 16 ideas and tips for a walkout basement:
1. Vaulted ceilings
High vaulted ceilings are perfect for adding an open feeling to your basement. If you have the height, try making the ceiling two stories high with exposed beams. It may require a bit more construction work, but it's worth it. It will make a great impression on visitors and give you more open space.
2. Decorative shelving
If you have a small room, you can use shelving to break up the space and keep things organized. They're perfect for adding some pizazz without sacrificing floor space. Don't be afraid to get creative with the types of display shelves you use. You can even add some color or paint them a funky zebra print, just for fun.
3. Lots of windows
The more windows you have in your basement, the better. It will allow lots of natural light into your home and give it some personality. Also, by using modern window treatments, you can create an exciting design that allows light into the room while also being attractive.
4. Wood paneled walls
if you are looking for a masculine touch in any house room, consider wood paneling the walls. It may seem outdated now but try doing it with contemporary designs to give off a rustic feel instead of something old-fashioned.
5. Recessed lighting
Recessed lighting is an inexpensive way to give any room in your house some pop. It helps create an exciting design while highlighting specific areas of the room for added accents. Not only that, but it's a lot more modern and sleek than overhead lighting because it doesn't overwhelm the entire space with light fixtures.
Read More: How Can You Make Your Garage Walls Look Nice? Top12 Garage Wall Ideas
6. Game rooms
If you have a walkout basement, a gaming system is one of the best ideas you can add. The work involved in building a game room may be expensive, but if you think about how much fun it will be to have one, then it should pay off in spades down the road. You can even add group activities by having a pool table, shuffleboard, air hockey, etc.
7. Finished basement
If you are lucky enough to have a walkout basement, then the general rule of thumb is that it should be mostly finished. You can use some or all of the space for an entertaining area, or it would make a great home gym if done right. Remember to think about everything you may want to use in your space to best design it around your needs.
8. Outdoor patio
Walkout basements are perfect for turning into outdoor patios. Just because you live in a cold climate doesn't mean you can't enjoy your backyard. Using your walkout basement as an outdoor patio will open up more room when the weather is nice out.
9. Separated storage areas
Do you have all your stuff throughout your house? If so, it may be time to think about getting some separated storage areas. There's no better feeling than having a door shut in a room where everything is organized and cleaned out. It can help create peace in your life and allow you to focus on the things that count.
10. Spa rooms
One of the best uses for a basement is turning it into a spa area. You don't need much more than a well-lit space with nice seating and music for relaxation. This would make for an excellent hobby room or even just somewhere everyone can go if they feel like chilling out after a long at work or school.
11. Wine cellar
Another excellent use for a walkout basement would be a wine cellar. The chances of having an area like this in your house may be slim to none, but if you do have one, then it's perfect for showing off expensive wines or even just keeping them stored when not in use.
12. Basement kitchen
Another idea is the basement kitchen. This allows you to make more of your main living space and provide additional costs by becoming a rental unit (if allowed) and providing income. If done right, it could help pay for itself over time.
13. Recreation room
A recreation room, better known as a man cave, is another fantastic addition to any home with a walkout basement. You don't even have to break the bank by buying expensive new furniture. A futon, recliner, and gaming system are all that's needed to make this happen.
14. Media room
Another great way of using your walkout basement is as a media room. All you need is a large flat-screen TV, seating, and some electronic equipment (be it PS3 or Apple TV), and the rest will fall into place. This would also be perfect for movie nights with friends or family since everyone has their own space and comfort level.
15. Home office
It doesn't matter what type of home business you may have; having an area set aside expressly for work could help optimize productivity. Even if you don't like doing work at home, having a dedicated space will help keep the distractions to a minimum and allow you to get on track with all your tasks.
16. Home theater
Another excellent use for walkout basements is turning them into a home theater. This type of room doesn't need anything fancy; just some comfortable seating for up to 4-5 people (depending on how big your TV is), and you are good to go! For better sound quality, surround sound speakers are recommended, along with subwoofers for deep bass tones.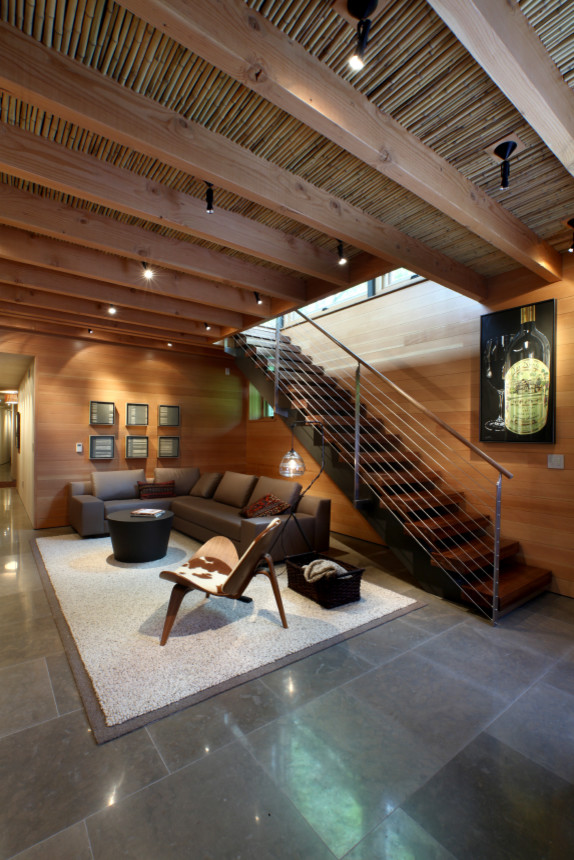 FAQs