Last Updated on September 15, 2022 by admin
An external hard drive is mostly used as a backup drive but that doesn't mean that we clutter it up with unwanted files and photos. Whenever we are left with limited storage on our smartphones, we move all our photos and media files on a computer. When we run out of space on our PC, we transfer all the clutter to an external hard drive without checking the importance of the data.
Duplicate photos can be considered as unwanted clutter that occupies huge space on any storage device. It is essential to periodically find and delete duplicate images from all our storage devices. If you deal with fewer photo albums, you can prefer the manual method however if you deal with a lot of albums, you will need the best duplicate photo finder and cleaners. Here we explore the manual methods to quickly find and delete duplicate & similar photos on Mac or Windows.
Delete Duplicate Images on Mac
Removing duplicate images on Mac is not different than doing it on Windows. You just have to perform these simple steps to quickly find duplicate photos.
Step 1. Plug in your external hard drive using a USB connector to your Mac.
Step 2. Open the Photos App, click on the File menu, and select the "New Smart Album" option.
Step 3. Give it a name and add search criteria and filter settings.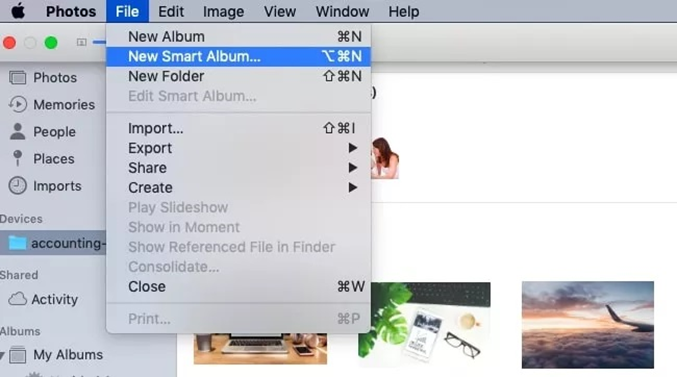 Step 4. Click on the plus (+) icon, browse through the external hard drive, and select Photos in the category.
Step 5. Run the search to quickly find duplicate photos. Press and hold the Command key and keep on clicking the duplicate photos that you wish to remove.
Step 6. Once selected, press the Delete key on your keyboard to send duplicate photos to the Trash. Access Trash and check if you have deleted the right duplicates. Once confirmed, hit the Empty Trash button to finally remove duplicate & similar photos from Mac.
Delete Duplicate Photos from Windows
Removing duplicate photos can be an easy option on Windows. It can be quick but it isn't a robust process to find duplicate photos on Windows.
Step 1. Plug in your external hard drive using a USB cable and access it in the Explorer.
Step 2. Go to the albums where you have stored pictures.
Step 3. Find the Layout section in the View menu and click on the Large Icons option.
Step 4. You will be able to see thumbnails of all the images. Scroll through and identify duplicate images. Press and hold the Ctrl key and start clicking on the found duplicate images to select them.
Step 5. Once selected, press the Delete key to send them to the Recycle Bin. Double-click to enter the Recycle Bin icon. Examine the deleted images, select all, and hit the Empty Recycle Bin if you have deleted the right images.
Upload Photos on Google Photos
Google Photos has this inbuilt duplicate scanner to fix and eliminate exact duplicates in the same folder. If you are using a Google account and have some space, you can try uploading photos from an external hard drive to your Google Photos and figure out the unique ones.
Step 1. Connect the External Hard Drive to your PC and access your browser.
Step 2. If you are not signed in, log in to your Google account. Click on the nine dots on the top right to access Google Apps and select Google Photos.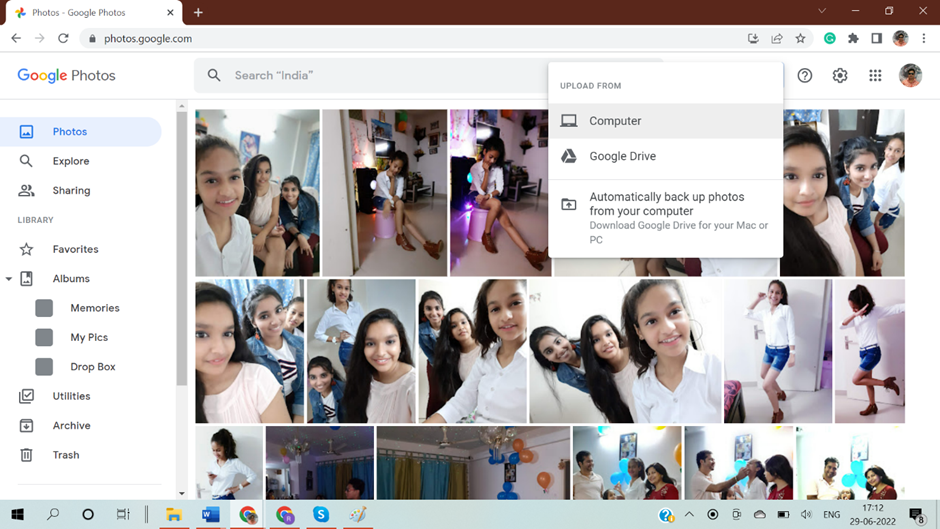 Step 3. Click on the Upload Photos button on the top and select Computer from the list. Browse the location of your External Hard Drive and select the photos to upload.
Step 4. It will line up all the selected photos to upload and will only upload unique photos. It will eliminate exact duplicates but not similar or edited photos.
Step 5. Once uploaded, you can check out the count of photos on the external hard drive and the Google Photos album. If there is a difference in the count, that means it has eliminated a few exact identical photos.
Step 6. Delete photos from the External Hard Drive and download photos from Google Photos back to it. You will be left with unique photos only.
Use Duplicate Photo Finder Tool
Using the best duplicate photo cleaner can automate the process and help you get rid of duplicate photos just with a few clicks. You can make use of Duplicate Photos Fixer Pro for Windows and Mac to quickly scan and list out all the duplicate photos.
Duplicate Photos Fixer Pro
Duplicate Photos Fixer Pro is a one-stop solution for all duplicate photos on any storage device. You can scan and find duplicate photos from internal & external HDD, SSD, USB storage, SD Memory Cards, Cloud Storage (Google Drive), and all other storage devices that connect to your Mac or Windows. It shares great compatibility with Windows 11 and earlier versions, MacOS, Android, and iOS devices.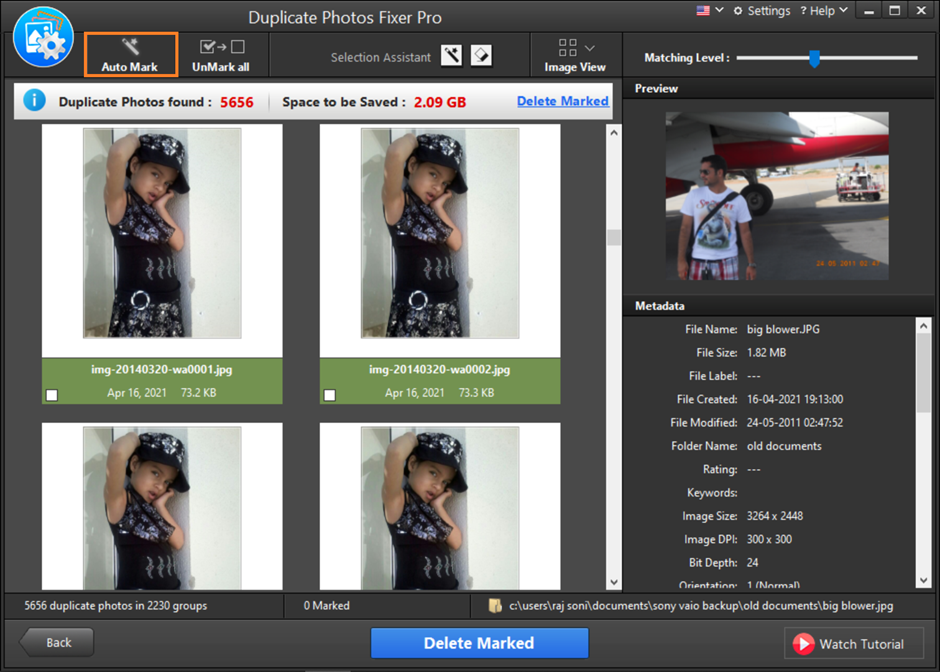 You can quickly download, install and activate the application to scan and find duplicate photos. It has an advanced algorithm to find and list out all the duplicate photos on the selected storage device. You can select them one by one or click to Auto-Mark all the found duplicates. Just with one single click, you can delete duplicate images from your storage devices.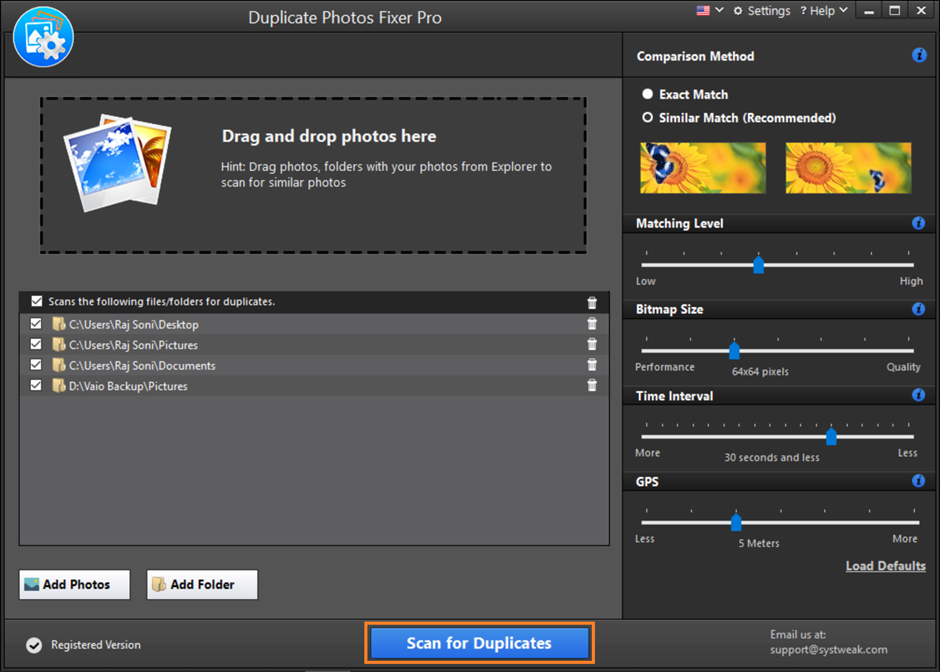 Summarizing
Duplicate photos are unwanted clutter on your external or internal storage. It should be regular hygiene to clear up duplicate photos before taking a backup on any storage drive. Duplicate photo remover can help you find duplicate photos and remove duplicates & similar photos. Duplicate Photos Fixer Pro is compatible with all major operating systems and the latest devices.